personal project + misc. materials

I learned how to make marble paper using directions from A Beautiful Mess since they had four trial and error options already. Just note that the preparation to thicken the water and apply alum to the paper does take an hour, so budget that time in.

Step 1: Cutting the paper.
I wanted to do various sizes like postcard, 8.5"x11", square and thinner cuts that could act as good bookmarks.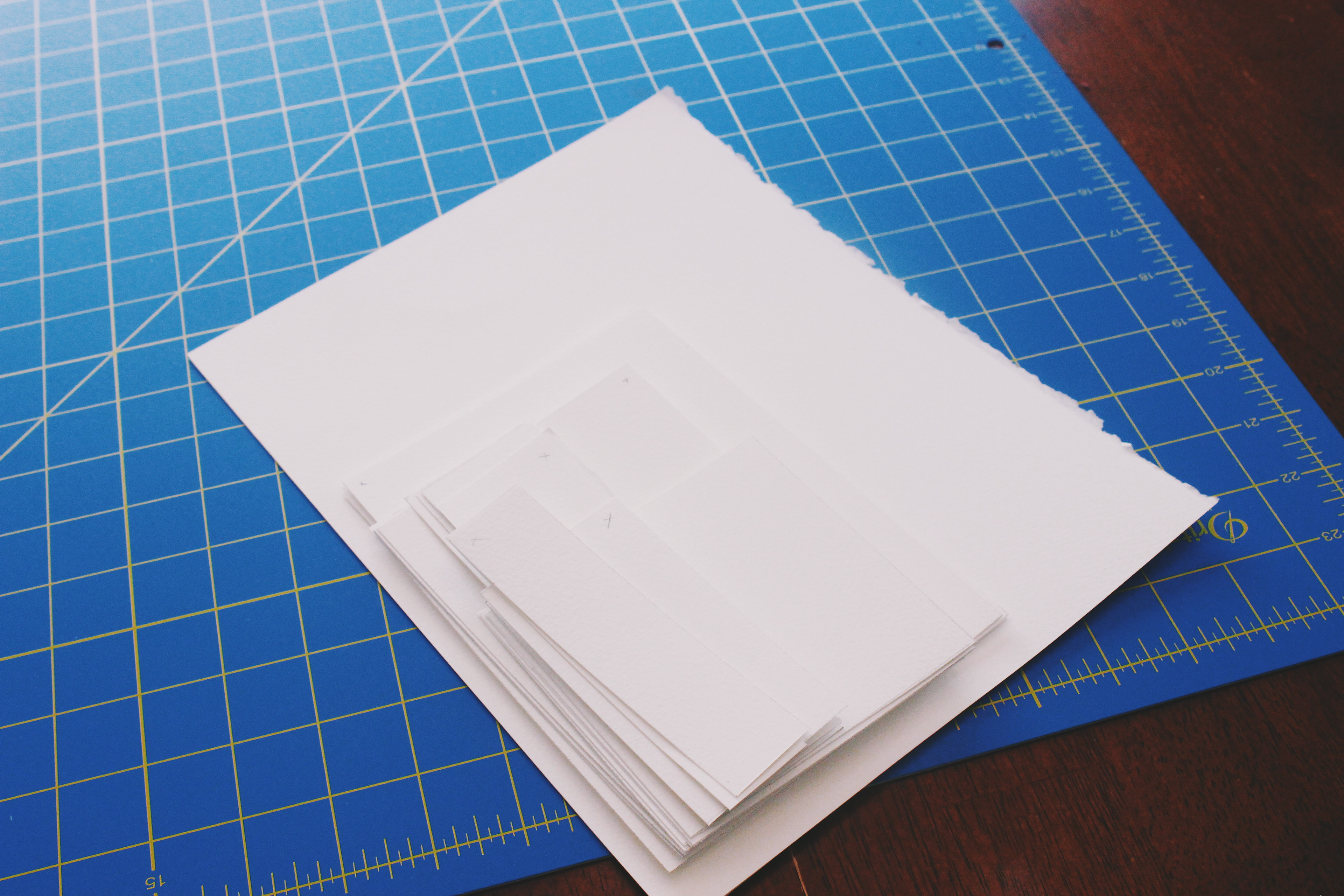 Step 2: Apply alum to the paper.
"You will need to cover your paper with alum in order for the design to transfer from the water to the paper without getting washed away. You may apply the alum with a brush, sponge, or a spray bottle. Mix 1 tablespoon of the powdery alum per one cup of water, and then thoroughly wet the surface of your paper. Lay the paper flat or hang it to dry.
After the paper is dry (about one hour), you'll want to iron it—yes, using an actual hot iron to make sure it is as flat as possible for the marbling process. You may have success with ironing a slightly damp piece of paper to prevent set-in wrinkles." — A Beautiful Mess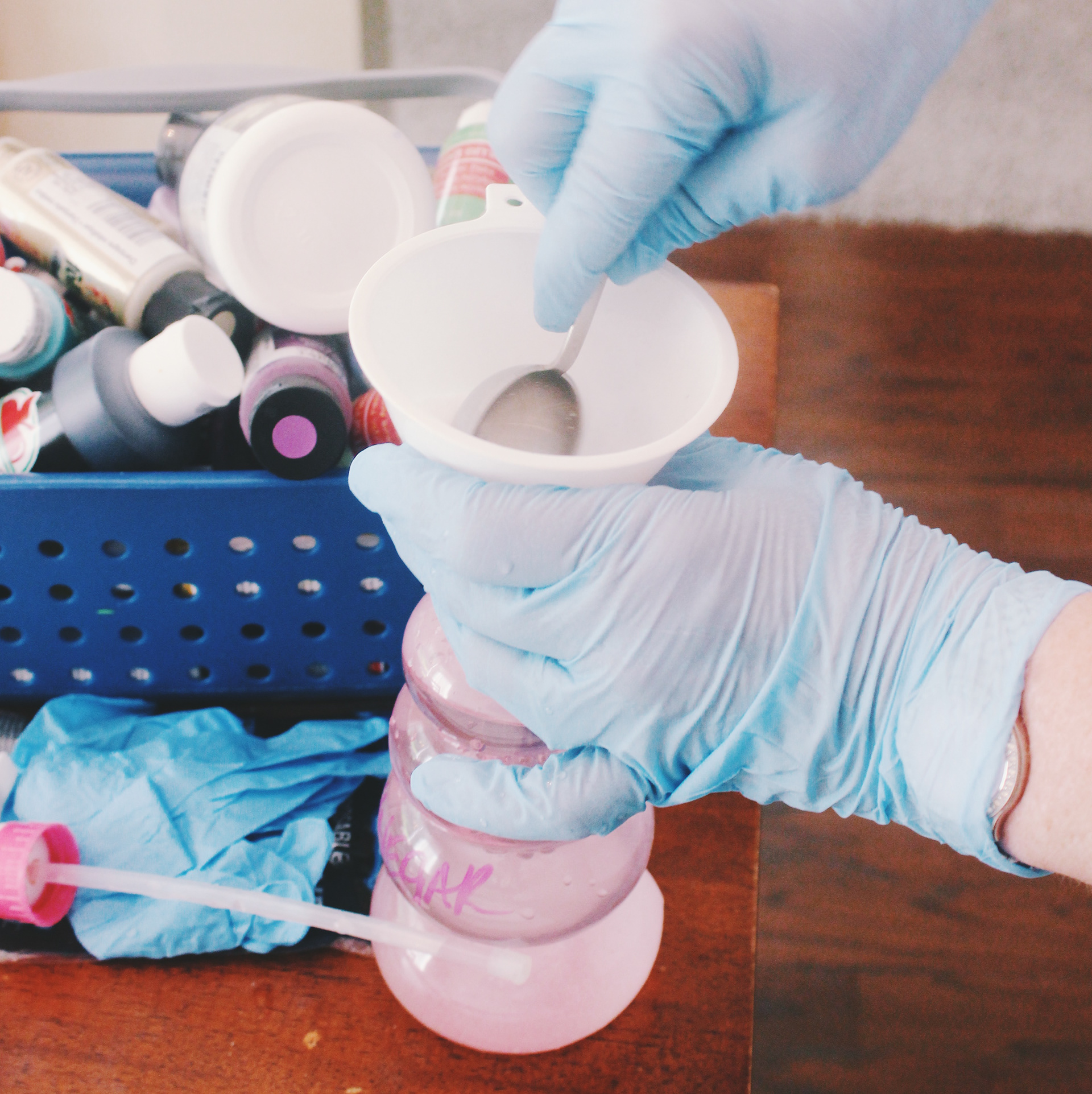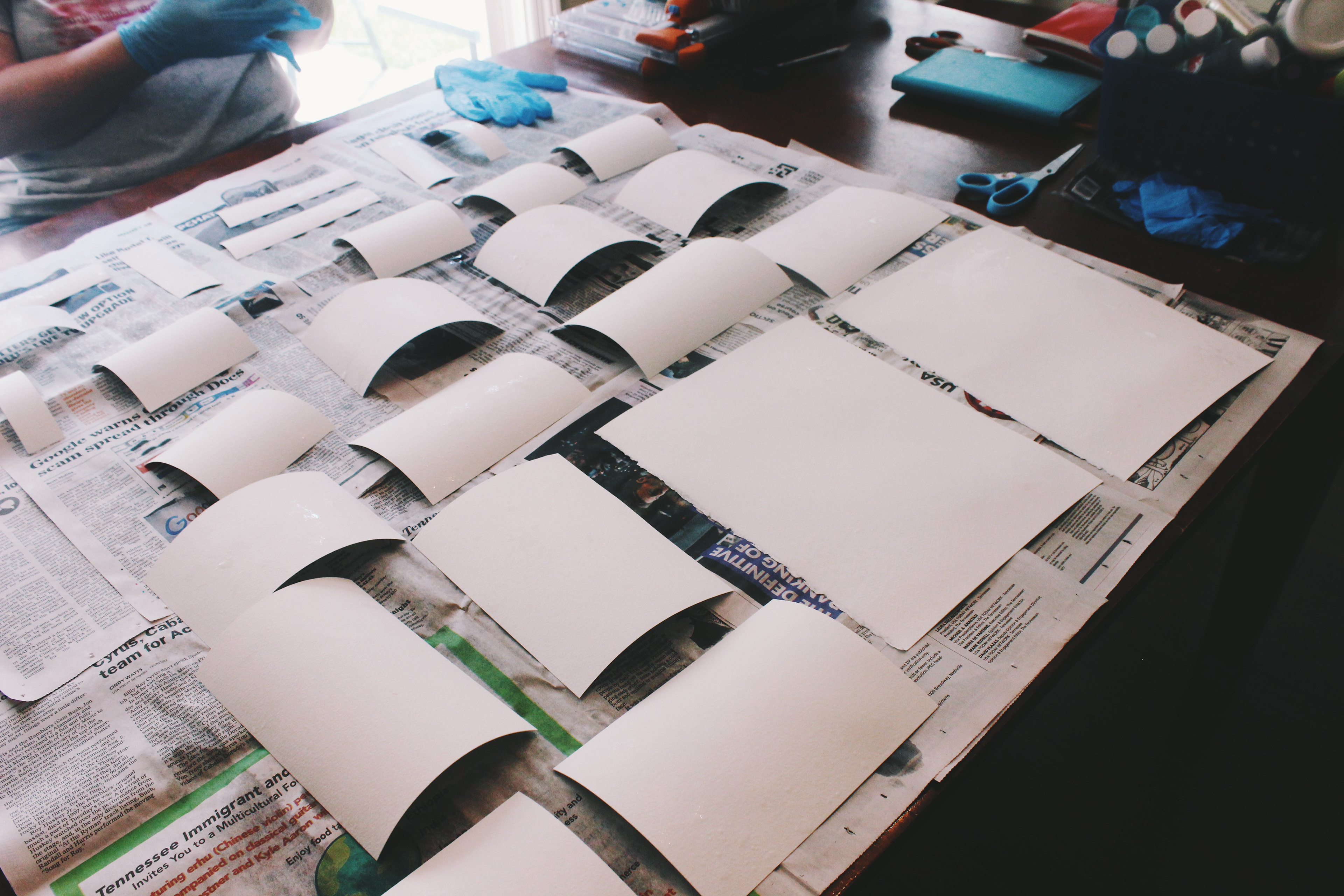 Step 3: Thicken the water.
"To thicken the water, you will need methyl cellulose, which is a powdery substance that mixes with water to create a consistency much like a thin gelatin. I prepared my water in a stock pot which has measurements marked out along the inside. Mix 1/4 cup of methyl cellulose with 2 quarts of water for the best marbling consistency. Use a whisk to stir the mixture and let it thicken for one hour. To ensure an even consistency, it's best to whisk the mixture thoroughly every ten minutes, or you'll end up with globs at the bottom of your pan at the end of an hour. After an hour, you may pour the thickened water into your marbling pan and begin!"
After dropping some paint, we used a pointed stick (whatever works — you can use a coffee stirrer or a straw or anything that allows you to go through the gelatin) to drag the paint through and create various designs.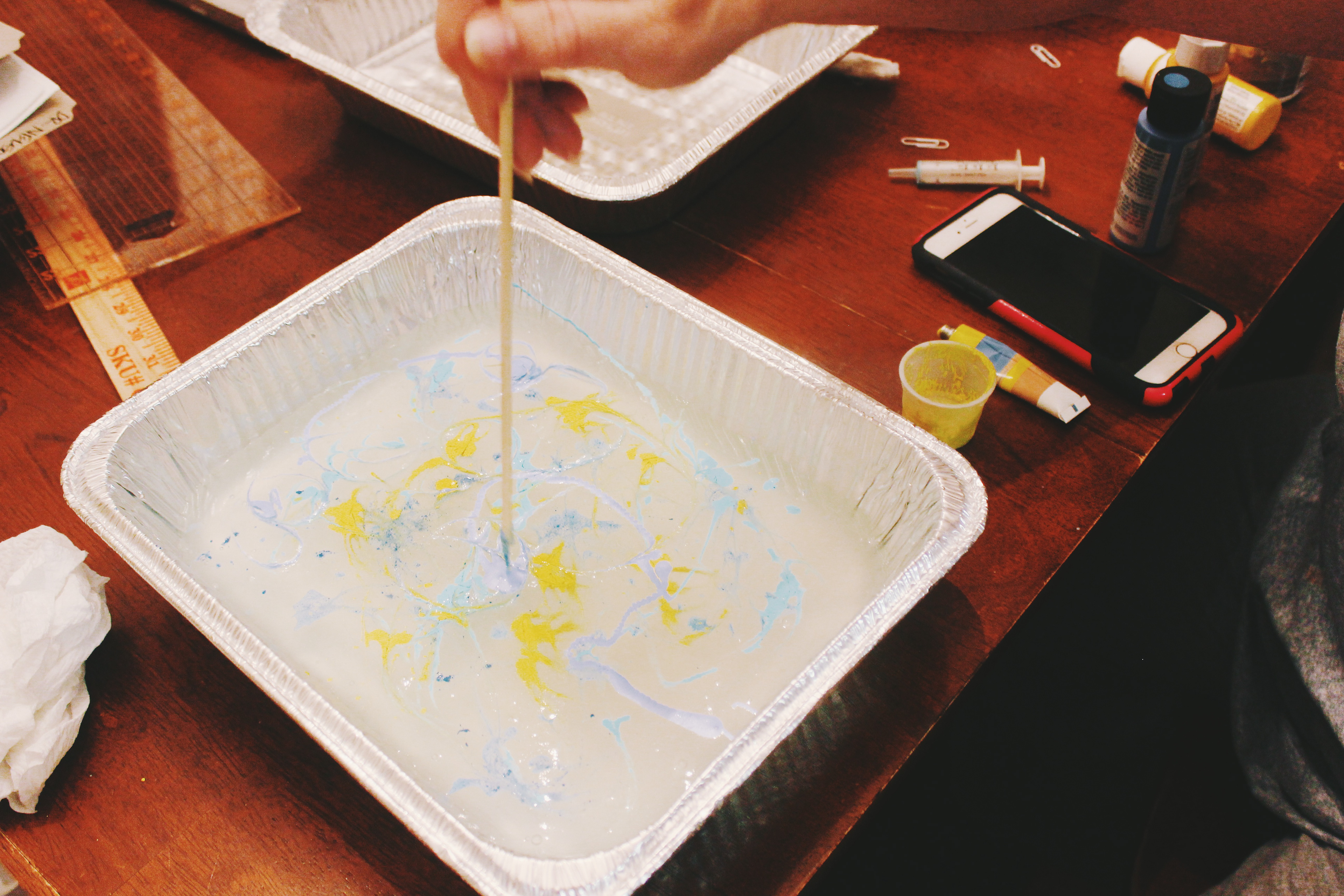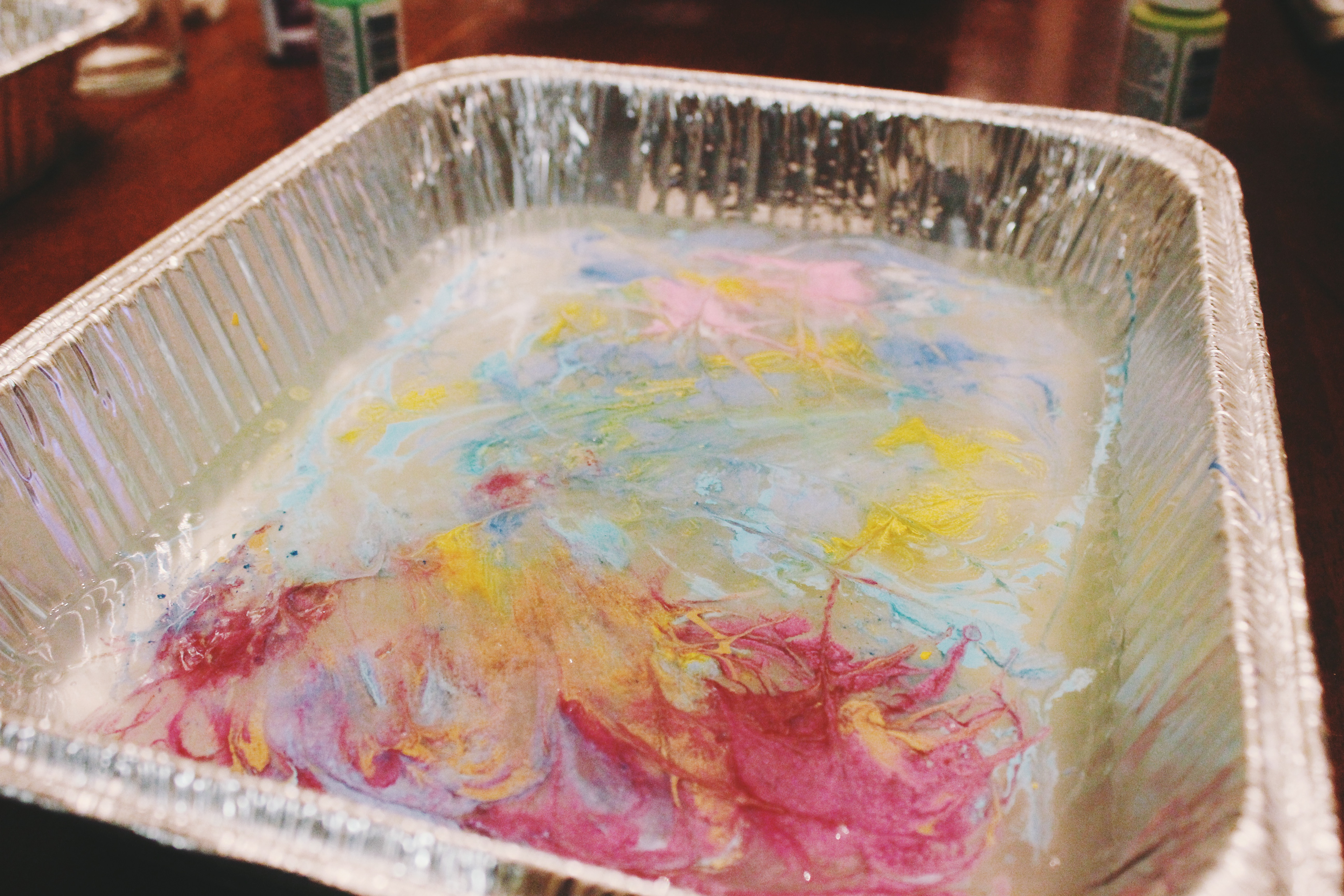 Step 5: Lay down the paper in the mixture.
Once we laid a sheet of paper on it, we'd push it in a little and let it sit for a few seconds before peeling it off. 
The downside and upside was that after each sheet, the paints would change and sometimes comes together (like below) so you'd never get two of the same design.

See all the designs below: